CRG: three letters that stand for thirty years of karting history.When Giancarlo Tinini and Carlo and Roberto Vanaria decided to open their own company in Lonato del Garda (Italy) in 1986, naming it after their initials, they didn't know CRG would be destined to write important pages in the great book of karting. Yet, if we rewind back to the 1970s we see that the premises for success were already well in place. At the time, the would-be partners were working at the legendary Kalì-Kart company owned and operated by one of the founding fathers of our sport, Calogero Vanaria. Karting was experiencing rapid expansion, quickly turning from a niche form of entertainment into a true motorsport. And among the changes making this possible was the transformation of kart manufacturers from small shops that built custom karts for select customers into modern companies with an articulate stock production line.
CRG emerged from precisely this context, following an articulate model of vertical development on three fronts: manufacturing, racing operations, and sales.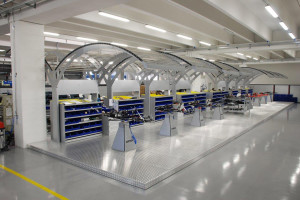 Company growth and innovation has been driven by a tight collaboration between the three departments from the very beginning. All of the technical solutions and product improvements introduced over the decades have been developed directly on track, based on the results achieved by the CRG Racing Team in the world's most prestigious championships. And from here, time after time, they have been channeled in the creation of a top-quality product offer made available worldwide, thanks to an extensive retail network that today spans all five continents.
In 2003, in the wake of endless evolution, Giancarlo Tinini – by then chief in command and sole owner of the company – decided it was time for a major reorganization of the various lines of operation that had taken shape over the years, including the production of kart engines under the Maxter brand. The corporate restructuring gave birth to two separate companies, Maxter S.r.l. and CRG S.p.A, under the control and coordination of the new Tinini Group holding.
The business of both companies continued to thrive and eventually required the transition to a bigger site. Inaugurated in 2009, not far from the original factory, the new complex functions as a true industrial hub, responsible for the full life cycle of CRG chassis (for both the racing market and the rental sector) and Maxter engines, from engineering, research and development to production.